DOG WALKING SERVICES
FUN, SOCIALISATION AND EXERCISE
Is your dog at home all day during the day? Break up their day by letting us come and pick them up and take them for a walk during the day for you.
We started off offering a boutique daycare service at our premises in St Peters which includes park walks, but have now decided to add a separate dog walking service to our list of services.
Socialisation and exercise are essential to your dog's overall well-being, so we walk our dogs in groups of up to 4 dogs per handler. When your dog comes on a walk with us, we will pick them up in our air conditioned vehicle, and match them up with other local play mates that will walk well together.
We conduct wellness checks with every visit, and then then take them to your local park where they can have a run around, exercise, socialise with other dogs and enjoy their daily outing. On our walks your dog will have plenty of time to enjoy the fresh air, sniff about, frolic in the grass, toilet and enrich their day with their friends.

Our experienced dog walkers will be there to stimulate, enrich and supervise the social interactions the dogs have with each other at all times and provide guidance to help your dog socialise and improve its social skills with other dogs in a fun and safe manner.

We also continue their basic training skills throughout their play sessions to ensure they are equally mentally and physically stimulated during their walks helping to learn positive behaviours.



Facilities
Safety is our number one priority. As such, we are very selective when it comes to accepting dogs in our care. All dogs are required to pass a social evaluation which helps us ensure your dog is a good fit for group walks. We will also require vaccination records from your vet to be presented showing current C5 vaccinations, including the Kennel Cough vaccine.

Important information
There are some conditions which must be adhered to for your dog to be eligible to come and spend a day with us. See more details in our FAQ.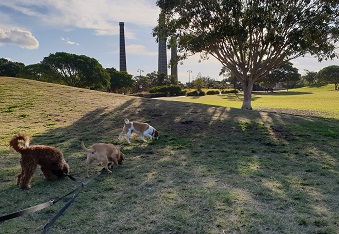 Suburbs we service